Philadelphia Burn Injury Lawyer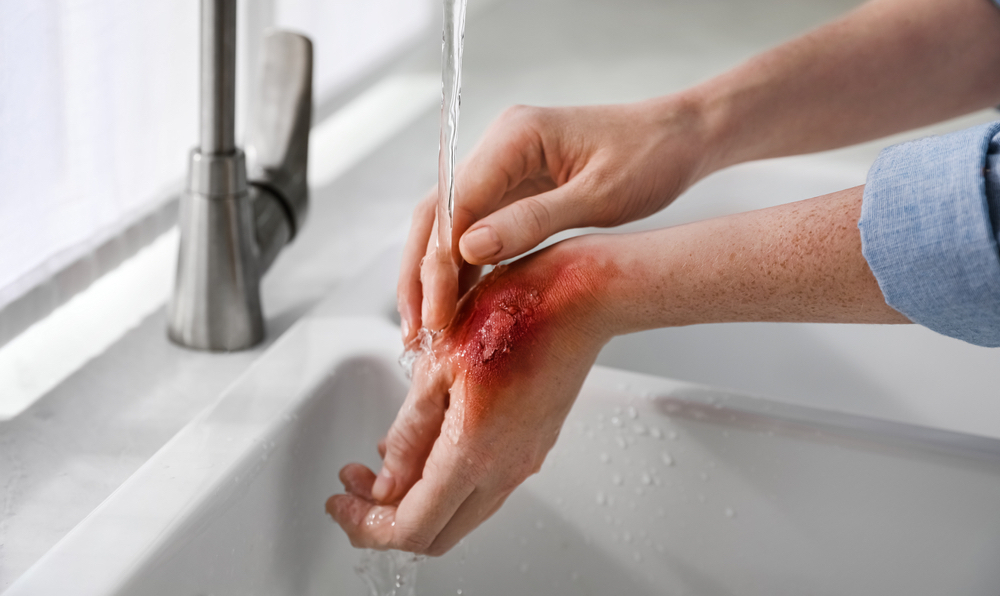 Skilled Philadelphia Burn Injury Lawyer Seeks Financial Recovery for Injured Victims in Pennsylvania and Throughout New Jersey
A serious burn injury can require intensive, painful medical treatment, after which you may still be left with permanent scarring and disability. If you sustained a burn injury due to the negligence or legal fault of another party, let a Philadelphia burn injury lawyer at Villari, Giannone and Matteo help you demand accountability and justice from those responsible for the harm you have suffered. 
Our firm is prepared to aggressively fight for your rights and interests in your case. When insurance companies and liable parties refuse to do what's right and provide you with the compensation you need, our attorneys are prepared to take them to court and to trial to pursue the best possible outcome in your case. You shouldn't have to bear the financial consequences of your injuries. We will pursue your case at no cost to you unless we win a financial recovery for you. 
When you have suffered burn injuries in an accident that was caused by someone else's fault, let a Philadelphia burn injury lawyer help you get the financial resources and justice you deserve for your injuries. Reach out to Villari, Giannone and Matteo for a free case evaluation to learn more about how we can help. 
Types of Burn Injuries
Burn injuries fall into one of three categories depending on the degree of severity of the injury:
First degree burns: Only affect the epidermis (outer layer of skin), causing redness and pain. First degree burns will usually heal on their own, although first aid treatment including antibacterial ointments and bandages may be applied.
Second degree burns: Damages the epidermis and the second layer of skin, or dermis. Causes swelling, blisters, and/or red, white, or splotchy colored skin. Second degree burns can often be painful, and more severe cases may result in scarring.
Third degree burns: Burn injuries that reach down to the fat layer below the skin, or in more severe cases to underlying tissues including muscle and bone. Affected areas can look white, brown, or black. Third degree burns usually destroy nerve cells, causing the affected areas to become numb. Treatment involves intensive wound care and often skin grafts. Severe cases of extensive third degree burns to extremities may require amputation.
Compensation Available in a Burn Injury Claim
If you have sustained a burn injury due to the negligence of another party or parties, you may be entitled to pursue a claim to recover financial compensation for your expenses and losses. A Philadelphia burn injury lawyer at Villari, Giannone and Matteo will make sure that you recover all the money you deserve for your:
Costs of medical treatment and rehabilitation, including hospital stays, surgeries, and medical procedures, as well as physical therapy and prescription medications
Expenses for long-term care if your burn injury results in permanent disabilities
Past, ongoing, and future loss of income and job benefits if you cannot work because of your burn injuries
Physical pain from your injury and treatments
Emotional trauma and distress from the accident and your recovery
Loss of enjoyment or quality of life due to permanent disabilities or scarring/disfigurement
A Philadelphia Burn Injury Lawyer from Villari, Giannone and Matteo Will Demand Accountability from Those Responsible for the Harm You've Suffered
When you have suffered a serious burn, you may be facing a long road to recovery. Even once your injuries have healed, you may be left with permanent scarring or disfigurement and physical disability. Let a Philadelphia burn injury lawyer with Villari, Giannone and Matteo seek to get you the compensation and justice you deserve from those responsible for your injuries by:
Thoroughly investigating the underlying facts and circumstances of the accident that resulted in your burn injury, identifying the party or parties who can be held liable to compensate you
Further identifying applicable insurance coverages
Gathering documentation of your expenses and losses and working with experts to calculate your future financial needs for your injuries
Handling communications with the insurance companies and defense lawyers and aggressively negotiating to try to reach a settlement that pays you fair and full compensation
Taking your case to court and trial when litigation becomes necessary to fight for the results you deserve
Contact Our Firm for a Free Initial Case Review to Discuss How a Philadelphia Burn Injury Lawyer Will Fight for Your Interests
Don't wait to get started with pursuing compensation and justice from those at fault for your burn injuries. Contact Villari, Brandes, & Giannone, P.C. today for a free, no-obligation consultation to talk with a Philadelphia burn injury lawyer about your legal options for seeking financial recovery for your injuries and losses. 
Frequently Asked Questions about Burn Injury in Philadelphia
What is the statute of limitations on burn injury claims?
Under Pennsylvania's and New Jersey's statute of limitations on injury claims, you normally have two years from the date of the accident or incident that resulted in your burn injury. A lawsuit that is filed after the statute of limitations has expired on your claim will likely end up being permanently dismissed by the court, and you will lose your right to financial recovery from those liable for your expenses and losses.
What are my rights if I was partially at fault for the accident that resulted in my burn injury?
If you are found partially to blame for the accident or incident that caused your burn injury, you may still be able to pursue a claim for compensation. Under the comparative fault rule in Pennsylvania and New Jersey, you are still eligible to file a claim against another party or other parties, so long as you were not more at fault for your injuries than they were. However, under the rule, you also may not recover compensation for the percentage of your losses that correspond to your share of fault for your injuries. For example, if you incurred $200,000 in losses for a burn injury that you were 25 percent at fault for, you will be held liable for $50,000 of your losses to reflect your share of fault.
"Want to thank all of you once again not only for your professional services but your friendship and feeling like family through all of these past four years as we fought to rebuild Stefanie's life. I could not have made a better choice for helping us through this ordeal."

Karl

"They are all very helpful, caring and they do everything to try to make sure you as a client are OK and get you what you deserve. I would recommend them to anyone. They are a great law firm."

Tiffany

"I will happily be recommending your firm to anyone who may need your help in the future because of Jen, Eric and Brian."

Michelle
Hear What Our Clients Have to Say