Philadelphia Motor Vehicle Accident Lawyer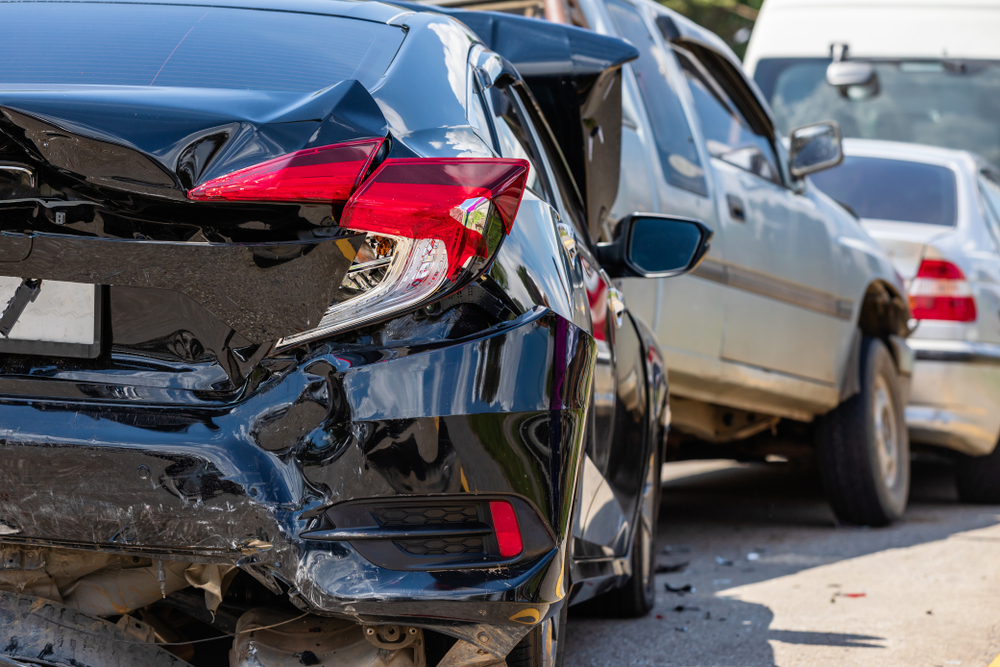 Experienced Attorneys Help Accident Victims Seek Maximum Compensation and Get Back to Normal Following Any Type Of Injury From A Crash In New Jersey Or Pennsylvania
Our legal team works with motor vehicle accident victims throughout the states of Pennsylvania and New Jersey. Our Philadelphia motor vehicle accident lawyers understand how to successfully file suit for damages after a crash, and we walk you through the legal process so that there is no confusion. 
As part of the lawsuit, we remain in contact with our clients at all times. You can reach out to us for a consultation or progress updates, and we are happy to answer your questions as they arise. Do not delay because the statute of limitations for both personal injury and wrongful death claims following a motor vehicle accident is only two years. 
Accident Claims A Qualified Philadelphia Motor Vehicle Injury Attorney From Villari, Giannone and Matteo Can Help You With
Our Philadelphia motor vehicle accident attorneys have decades of experience handling complicated cases for the injured, including cases involving:
Car Accidents
Truck Accidents
Motorcycle Accidents
Bicycle Accident
Pedestrian Accidents
Bus Accidents
Uber/Lyft Accidents
Train Accidents
Boating Accidents
And more
A Dedicated Philadelphia Motor Vehicle Accident Lawyer Will Learn the Fact of Your Case
After a motor vehicle accident, liability can be murky at best. When you speak to a qualified Philadelphia motor vehicle accident lawyer from Villari, Giannone and Matteo, we will explain the information that we're able to gather about your claim and any further information that we must uncover. We will gain access to a few things that will be helpful as we seek the maximum compensation for your injuries, including:
A timeline of events that day
The police report
A copy of your medical records
Receipts from your medical care
A statement from your employer if you are on leave
Pictures or videos you took at the accident scene
Contact information for eyewitnesses you met at the scene
During the investigation, your Philadelphia motor vehicle accident lawyer will inspect the vehicles involved, interview anyone who might know something about the accident, survey the accident scene, and coordinate with accident reconstruction specialists. We also reach out to medical experts who can better explain how your recovery will progress.
Understanding Who Caused Your Accident
We must come to an understanding of who caused your accident, and we will consider all the involved vehicles, outside forces, and related businesses. We may find that another driver caused your accident and no one else was involved. When that driver is proven to be negligent, we must explain why. Drowsy, drunk, distracted, or reckless drivers can be sued for their misconduct. Drivers guilty of road rage or drivers found to be aloof at the wheel are equally liable for your accident. For instance, a driver might have followed their GPS directions without taking note that they were going the wrong way and caused an accident, for which they would be found at fault.
If a truck driver causes your accident, they can be held liable for making the same grave errors. Truck drivers are also bound by Federal Motor Carrier Safety Administration rules. They must inspect their vehicles, secure their loads, obey all speed limits, avoid alcohol entirely, and stop driving when they reach their time limit for the day or week.
At Villari, Giannone and Matteo we are aware that businesses own vehicles darting down the road every day. The owner of the vehicle may be liable for improperly maintaining the vehicle or using faulty parts to get the vehicle back on the road. The manufacturer of the vehicle may be guilty of hiding recalls, using improper parts, or using defective designs.
The local government must maintain the local roads, post signs, and ensure that railroad crossings are functional. If there is a breakdown in the local road system that caused your accident, we will determine which division of the government is responsible and file suit. 
How do We Recover Compensation for Motor Vehicle Accident Victims?
An experienced Philadelphia motor vehicle accident lawyer from our firm will compile evidence that will lead to the maximum compensation for your injuries or losses. As part of our investigation, we compile a list of all your damages, starting with your medical costs. We will consider whether you received emergency medical care at the time of the accident and if you require more medical care during recovery. We factor in medications, surgeries, and other things you might need. If necessary, we will work with a medical expert who can explain the cost of a full recovery.
Aside from your medical expenses, you should be compensated for the days you missed work. You might spend months out of work, and you could have lost your job during that time. We will seek compensation for your lost wages, and we will petition the court for the money that you can no longer make because you are disabled or changed jobs. If you cannot work at all, we determine what your lifetime earnings should be. If you require job training, we seek funding for your certification or retraining.
At Villari, Giannone and Matteo, we also investigate how much you are suffering after the accident and will seek compensation for the damages you've suffered including for pain and suffering and the discomfort you feel every day. We may seek compensation for emotional anguish if you developed a mental health condition that requires treatment, if you suffer from constant anxiety or depression, or if you experience flashbacks and nightmares. 
We may even in rare cases seek punitive damages after an accident if we feel that the offending driver or entity went beyond the pale with their negligence or misconduct. We can recover up to five times your compensatory damages, capped at $350,000 if the court deems them necessary.
Villari, Giannone and Matteo Proudly Serves Philadelphia, Pennsylvania, and New Jersey
Contact us today if you were involved in a motor vehicle accident in Philadelphia, Pennsylvania, or New Jersey. With some of the highest populations in the country, motor vehicle accidents are sure to happen every day in PA and NJ. In fact, the Pennsylvania Department of Transportation reports that in 2020 alone there were 104,475 reportable traffic crashes in Pennsylvania. These crashes claimed the lives of 1,129 people and injured another 61,248 people. To add some perspective, the 2020 total of reportable traffic crashes is the lowest total since 1950 when 113,748 crashes were reported.
New Jersey statistics report that deaths with motor vehicle-related injury as the underlying cause of death already include 66 driver fatalities, 12 passenger fatalities, and 34 pedestrian fatalities in 2022. Motor vehicle-related deaths include motor vehicle and motorcycle drivers and passengers, pedestrians, and bicyclists struck by motor vehicles both on roadways in traffic and in other areas such as parking lots and driveways.
If you or a loved one suffered injuries as the result of another person's negligence, contact an experienced Philadelphia motor vehicle accident lawyer from our firm for a free consultation about your vehicle crash claim today.
Frequently Asked Questions About Motor Vehicle Accident Claims in PA and NJ
How do I file a wrongful death lawsuit after losing a loved one in a motor vehicle accident?
You may file a wrongful death lawsuit if you are a dependent of the person who died. If you represent their estate or serve as the executor of their estate, you may file suit. Speak to your lawyer about who is eligible to file the lawsuit and how the money will be dispersed after winning your case.
Can I sue multiple people following a motor vehicle accident?
If multiple people or entities are involved in your accident, we will file suit against all of them for damages. We will keep you updated on the status of the case so that you understand how we will proceed.
"Want to thank all of you once again not only for your professional services but your friendship and feeling like family through all of these past four years as we fought to rebuild Stefanie's life. I could not have made a better choice for helping us through this ordeal."

Karl

"They are all very helpful, caring and they do everything to try to make sure you as a client are OK and get you what you deserve. I would recommend them to anyone. They are a great law firm."

Tiffany

"I will happily be recommending your firm to anyone who may need your help in the future because of Jen, Eric and Brian."

Michelle
Hear What Our Clients Have to Say