Philadelphia Truck Accident Lawyer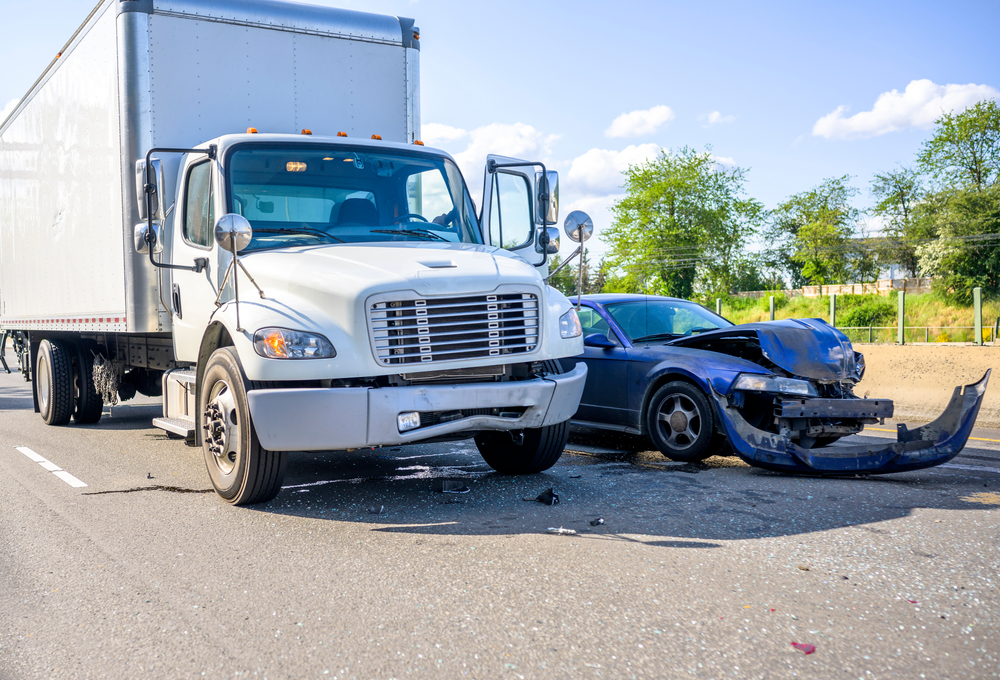 Big rig, tractor-trailer, 18-wheeler, and semi-truck attorneys
If you or a loved one were involved in a serious truck accident, contact an experienced Philadelphia truck accident lawyer from Villari, Giannone and Matteo at 610-609-8477. We serve accident victims in Pennsylvania and New Jersey.
Truck accidents turn people's lives upside down. In an instant, a tractor-trailer accident, dump truck or delivery truck accident, or another large commercial vehicle accident can result in severe, life-threatening injuries.
And since there's often only a small amount of space on many older roads and highways, truck accidents happen far more often than many people might realize.
Case results matter
$6.4 Million – Tractor-trailer accident result
$4.8 Million – Tractor-trailer accident result
$4.8 Million – Tractor-trailer accident result
More Case Results
Knowing what to do after a serious truck accident can be confusing. Fortunately, you don't have to deal with your crash on your own. The experienced Philadelphia truck accident lawyers at Villari, Giannone and Matteo can help you every step of the way. From our offices in Conshohocken, Philadelphia and Marlton, we serve victims throughout Pennsylvania, New Jersey and beyond.
"We take truck accidents very seriously," attorney Peter Villari said. "That's because we realize the stakes are so high. If you or a loved one has been hurt in a truck accident, your life as you know it could be changed forever. That's why we want to work with you. We want to help your family get your lives back on track." 
Where did your accident happen?
I-95
Schuylkill Expressway (I-76)
Pennsylvania Turnpike (I-76)
I-276
I-476
I-676
I-95
One of the busiest highways in the country, Interstate 95 passes through many of the largest cities in the Northeast, including Philadelphia, as well as heavily traveled parts of New Jersey. When commercial truck accidents happen on I-95, injuries can often be very severe. That's because many truck drivers are speeding on I-95. Other times, trucks are overloaded or the drivers are inexperienced, resulting in a jackknife or rollover truck accident.
Schuylkill Expressway (I-76)
Everyone's least favorite highway in Philadelphia, the Schuylkill Expressway can be a nightmare to drive on any time of day or night due to limited driving lanes, poor road conditions, aggressive drivers and heavy traffic congestion. Add in large trucks and you often have a recipe for disaster. Schuylkill Expressway truck accidents can be very complicated. That's why it's critical that you have a Philly attorney who knows how to handle such tough cases. Contact us. We can help.
Pennsylvania Turnpike (I-76)
Truck accidents on the Pennsylvania Turnpike can be very complicated. That's because such accidents often involve truck drivers from other states driving through Pennsylvania. And while truck accidents can occur anywhere on I-76, many serious truck accidents occur near Philadelphia, one of the most heavily congested sections on the Turnpike. Accidents caused by speeding truckers, aggressive drivers and distracted drivers are common. Whatever the cause, contact us.
I-276
Part of the Pennsylvania Turnpike in Philadelphia is known as Interstate 276. Originally known as the Delaware River Extension, I-276 connects Pennsylvania with New Jersey via the Delaware River Turnpike Toll Bridge. Whatever drivers call I-276, truck accidents on this busy road often result in serious injuries and severe damage to motor vehicles. That's why it's critical you contact our law firm if you've been hurt in a truck accident on I-276. We can help you.
I-476
Known as the Blue Route, Interstate 476 runs north from I-95 in near Philadelphia through Allentown and Wilkes-Barre before passing near Scranton and ending in Clarks Summit at Interstate 81 (with a portion being a section of the Pennsylvania Turnpike known as the Northeast Extension). Tractor-trailers and other large, commercial trucks often use this highway to access numerous warehouses and transportation hubs along I-476. As a result, truck accidents often occur on the Northeast Extension. Wherever your accident occurred, we can help you.
I-676
One of the shortest highways in Pennsylvania, Interstate 676 runs 7 miles from the I-76 in Philadelphia to the Walt Whitman Bridge in Gloucester City, NJ. Often called the Vine Street Expressway in Pennsylvania or the North-South Freeway in New Jersey, truck accidents often occur on I-676. And if they do, you need an experienced accident attorney on your side, defending your rights. Contact us. We fight for justice.
Common legal issues
The primary reason why trucking accidents can be so complicated is that you're not just dealing with the truck driver. There are often several companies you will need to deal with after your crash, including the trucking company and its insurance company.
Then there are the laws governing truck accidents. They're different in many cases compared to the rules and regulations most drivers need to follow when operating a car or motorcycle. Special federal laws apply to operating most commercial trucks and to accidents involving them.
The Federal Motor Carrier Safety Administration (FMCSA) oversees the trucking industry and makes sure that truck drivers and trucking companies follow safety laws, including Hours of Service (HOS) regulations, which stipulate how many hours truck drivers can work each day.
There are many other FMCSA regulations that apply to commercial trucks, including the weight of the truck, inspections and how much training truck drivers must have before they can legally operate a commercial truck.
In addition, other legal issues often arise after a truck accident, including determining who's responsible for compensating accident victims. And in nearly every case, you will likely encounter an adversarial trucking company, uncooperative insurance company officials, and entire teams of attorneys focused on denying your accident claim.
How An Experienced Philadelphia Truck Accident Lawyer From Our Firm Can Help You
Trucking companies, insurance companies, and their attorneys often put pressure on injury victims and their families to settle their cases right away. They may even make a settlement offer that might seem reasonable at first.
But the truth is such offers rarely come close to covering all accident-related expenses. If you've been injured in a truck accident, you'll likely need money for medical bills, vehicle repairs, lost income, and maybe even future medical care or replacement income if you cannot work.
We take all of these issues into consideration when we represent people injured in truck accidents. Remember, you didn't do anything wrong. You shouldn't have to pay for someone else's reckless behavior. Contact us and schedule your free case evaluation.
And if you have any questions throughout your case, you can reach us at any time. Our attorneys give their home numbers and cell numbers to all our clients. That's because we know that people want answers without worrying or waiting. We put your best interests first here. In fact, we think the best client is an informed client. Please find below some of the most frequently asked questions we get at our law firm about truck accidents and informed responses from our qualified legal team:
"Want to thank all of you once again not only for your professional services but your friendship and feeling like family through all of these past four years as we fought to rebuild Stefanie's life. I could not have made a better choice for helping us through this ordeal."

Karl

"They are all very helpful, caring and they do everything to try to make sure you as a client are OK and get you what you deserve. I would recommend them to anyone. They are a great law firm."

Tiffany

"I will happily be recommending your firm to anyone who may need your help in the future because of Jen, Eric and Brian."

Michelle
Hear What Our Clients Have to Say