Philadelphia Vacation Injury Lawyer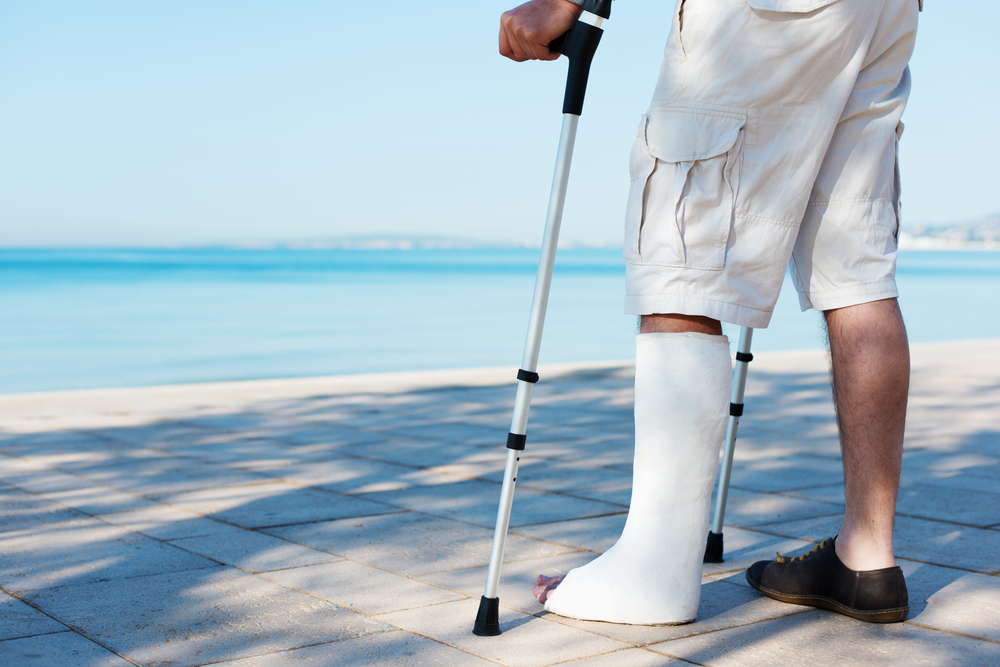 Do you need a slip, trip or fall attorney?
Being injured on vacation, whether domestically or in another country, can be a scary experience. You might be in pain, but you may also be miles from the nearest medical center, especially if your injury occurred on a cruise ship. What's worse, you may have to struggle communicating with a medical professional due to a language barrier, or you may not know how to pay for medical care there. For this reason, the professionals at Villari, Giannone and Matteo want to make travelers aware of the necessary steps to take if you are injured on vacation in the United States or abroad.
Purchase insurance: Make dealing with an injury easier by travelling with traveler's insurance. Buy it before your trip begins. Be sure you have a policy that provides unlimited coverage. When you travel, bring the proof of your policy with you.  This type of "trip insurance" or "travel insurance" is relatively cheap, often just a couple hundred dollars.  When spending several thousand dollars for a vacation or business trip overseas, it is a small price to pay for peace of mind. Also, if you purchase your tour, airline or cruise ticket on a credit card, you may be eligible for certain medical or other benefits from the credit card company if you are injured while on your trip.
Do your research: Research your destination before you travel. Make yourself and family members aware of the area you are travelling to. If you can, find out where the best medical care facilities are located prior to going on your journey. Be sure to also familiarize yourself with the potential dangers associated with the area you are traveling to, such as dangerous insects, infectious diseases, unsafe food handling practices, dangerous neighborhoods, or political unrest and violence.  Consider consulting with your family doctor about any vaccinations you should receive before traveling.
Wash your hands: If you are going on a cruise, research the cruise line to see if there have been complaints or incidents of outbreaks of illnesses on their ships. Regardless of the cruise line, remember to wash your hands often (especially before meals) to prevent the spread of any viruses or infections.  This is also true when traveling in another country.  Consider asking your doctor to prescribe you an antibiotic that you can bring with you and take if you get sick while overseas.
Pack carefully: When traveling abroad, pack your medications and a first aid kit or other types of medical supplies you may need in case of an emergency. These can make all the difference if you are injured and have to wait for medical assistance to arrive, or if you suffer from a chronic ailment that worsens while away from home.
If you are injured abroad, be sure to:
Obtain a copy of the incident report and medical report. This should include information about the incident, including the date and time of the incident, injuries suffered, any medications prescribed, and any other relevant details regarding your injury. If you are hospitalized, obtain a complete copy of the hospital chart when you are discharged.
Keep any and all receipts. If you purchase medical supplies, keep the receipts for your records. If you can, pay for any and all expenses using a credit card rather than cash. This will help track where your money went and what it was spent on.
If you are taken to an emergency room or admitted to a hospital, contact the local United States embassy as soon as possible. Keep a paper copy of your passport ID page in your wallet or purse, and keep your passport ID number in your cell phone in case you have to reference it and are not in possession of your actual passport.
If you are traveling with a large touring group or tour bus company, you should be aware of the responsibilities that these companies hold. The operators or drivers of tour busses have a duty to ensure the care and safety of their passengers. They should begin each tour with an introduction to the safety features of the bus or coach and demonstrate proper use of seat belts. A tour guide or bus operator should also list any risks of injury guests may be exposed to. Oftentimes, bus and tour incidents and crashes are caused by the neglect of the bus or tour operator or organizer. These causes include:
Unsafe or uninspected vehicles
Incompetent driver(s)
Driver neglects to take rest periods
Poorly maintained roads or lack of instructional driving signs on the roads
Dangerous vehicles or other drivers on the roadways
Finding a qualified lawyer to represent you in an injury abroad case can be challenging.
Whether you were injured abroad on a family vacation or injured abroad on a bus tour or while on business, your case matters to us.  The professionals at Villari, Brandes & Giannone understand the distress your situation is causing and will work hard to ensure you receive the compensation you are due.  Our experienced attorneys have a track record of success representing people injured overseas and domestically. We are always available to answer your questions and address your concerns.
If you have suffered an injury on vacation in the United States or another country, regardless of where you live, contact us right now. Time may be of the essence in protecting your legal rights. Call us today for a free case evaluation.
"Want to thank all of you once again not only for your professional services but your friendship and feeling like family through all of these past four years as we fought to rebuild Stefanie's life. I could not have made a better choice for helping us through this ordeal."

Karl

"They are all very helpful, caring and they do everything to try to make sure you as a client are OK and get you what you deserve. I would recommend them to anyone. They are a great law firm."

Tiffany

"I will happily be recommending your firm to anyone who may need your help in the future because of Jen, Eric and Brian."

Michelle
Hear What Our Clients Have to Say